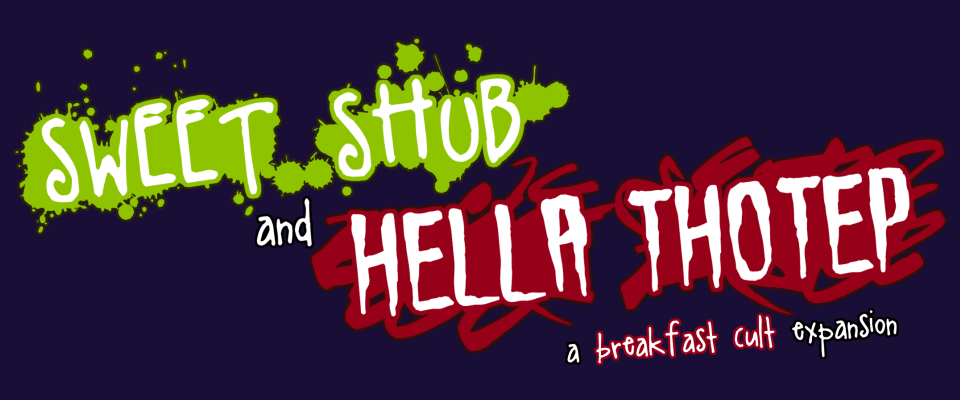 Sweet Shub And Hella Thotep - A Breakfast Cult Expansion
This is an expansion pack for Breakfast Cult.
In the Weird Age of the late 21st century, the newly-discovered occult sciences are changing the world. If you want to learn them, Occultar Academy is the place to go. In this secluded island school, talented students from all over the world can learn sorcery and occultech under the Miskatonic Foundation's watchful eye. But while the Black Library lies beneath them, the island isn't as secluded as they think...
Sweet Shub And Hella Thotep is an expansion pack for Breakfast Cult, the Fate Accelerated game of cosmic horror and high school drama. It brings some of H.P. Lovecraft's Cthulhu Mythos to Occultar Academy, with:
An optional alternate setting that adds a little Cthulhu Mythos to Occultar's backstory
Five new pregen characters: Marcy Bishop the restless artist, Taro Isoge the loyal Student Council lackey, Yvonne Legrasse the detective's daughter, Ambrose Quincy the sheltered jerk, and Lee Tillinghast the high-tech hustler.
Four Ancient Ones drawn from the Cthulhu Mythos: Great Cthuhlu, Nyarlathotep (a "classic" version and a new Occultar avatar, Your Best Friend), and Shub-Niggurath.
More Ancient One setups for alien Incursions by Deep Ones and Mi-Go.
New encounters, including Lovecraft's Ghost, Eko Onbekend the Deep One prophet, Herbert West—Science Teacher, and a statistically valid sample of the Thousand Young.
The Great Old Ones are coming. To survive until your entrance exams, you'll need to solve mysteries, uncover terrible secrets, and find out which of your classmates are conspiring against you before it's too late!
(Sweet Shub And Hella Thotep was created as a stretch goal for the Breakfast Cult Kickstarter. Thanks to the backers for making this possible!)
Purchase
In order to download this game you must purchase it at or above the minimum price of $7.45 USD. You will get access to the following files:
Breakfast Cult - Sweet Shub And Hella Thotep PDF
14 MB